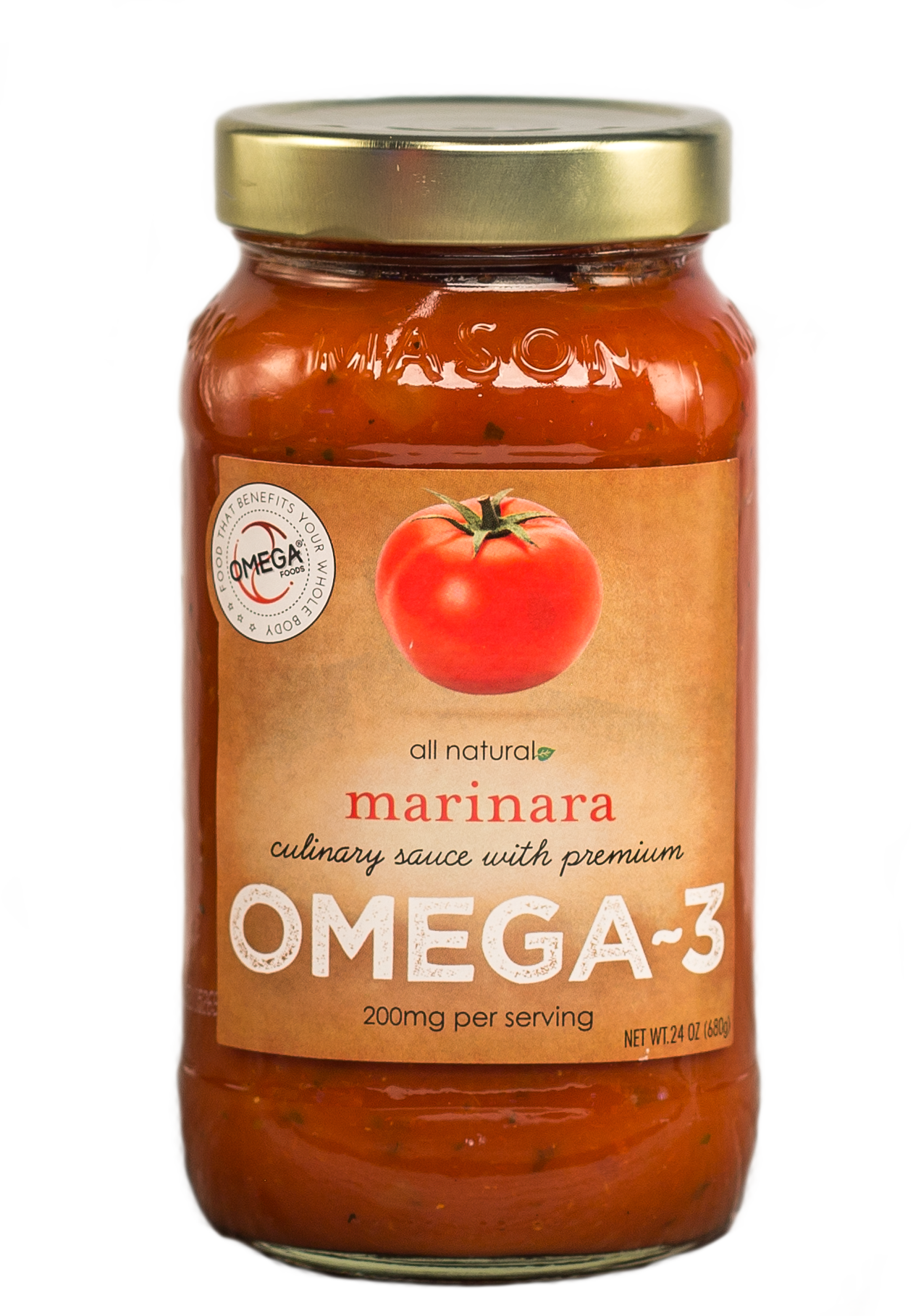 MARINARA CULINARY SAUCE
This savory Old-World favorite orginates from the seafaring city of Naples, Italy!  It's perfect pairing for our balanced, marine-based OMEGA-3. Brimming with the flavors of fennel, rosemary, celery, and tomato, our premium Marinara Culinary Sauce dishes up 200mg of OMEGA-3 in every serving. Also try our delicious Santa Fe Chipotle and Marinara Sauces!
200 mg Total OMEGA-3 per Serving
Premium Marinara Culinary Sauce
Loaded with herbs and spices–an Italian favorite! Balanced with all of the right OMEGAs you need for a healthy diet.
---
BALANCED NUTRITION
Properly balanced OMEGA-6 to OMEGA-3 (EPA/DHA)
---
Only Natural Ingredients
No Artificial Additivesor Preservatives
GMO-Free & Gluten-Free
---
ENRICHED WITH TruMega+™ STABILIZED OIL
Our products are made with
TruMega+™ fish oil
, which is protected in a patented process that's taken years of research to perfect. It's flavorless, odorless and marine-based OMEGA-3 EPA/DHA.
Think Outside the Jar.
There are a lot of ways you can use our Culinary Sauces to make sure your family is getting more of the OMEGAs they need!
Calling Creative Cooks! Send us your favorite healthy recipe or idea, we'd love to share it.
---
Snack Ideas
Stuffed Mushrooms: Mix panko bread crumbs, chopped mushroom stems and grated Parmesan cheese with Marinara Pasta Sauce; stuff into mushroom caps, drizzle with olive oil and bake at 400 degrees F for 30 minutes.
Pita Pizza Snacks: Make individual Margherita pita or English muffin pizzas with Marinara Pasta Sauce topped with fresh diced tomato, basil, oregano and fresh mozzarella.
Meal Makers
Zippy Egg Frittata: Drizzle Marinara Pasta Sauce over egg frittatas or omelets.
Mmm, Mmm Meatloaf: Top your favorite meatloaf recipe with Marinara Pasta Sauce instead of tomato paste or ketchup (See picture above).
Italian Pasta Salad: Blend 1 cup Marinara Pasta Sauce with 1 cup of mayo or Italian dressing to create a great dressing; toss with your favorite cooked pasta, fresh veggies, olives and pepperoni.
Grilling Marinade: Whisk 1 cup Marinara Pasta Sauce with ¼ cup balsamic vinegar, 1/3 cup olive oil, garlic and season to taste. Great for pork tenderloin or chicken!
 Serving/Care
1/2 cup serving = 200 mg of health impacting O-3s
Refrigerate once opened
Use within 3-5 days
Ingredients
Tomato Puree (Water, Tomato Paste), Diced Tomatoes, Sugar, Natural Oil Blend (Palm Kernel, Canola & Fish Oil), Celery, Onion, Salt, Garlic Powder, Onion Powder, Spices, Citric Acid, Pectin, Natural Flavor, Vitamin E and Vitamin B-6.
Allergen-FREE* TruMega+™ oil has gone through processing steps that effectively remove ALL allergenic proteins.
*Statement on file